This site uses cookies, by continuing to use this site you are agreeing to their use. Learn More
olympic park
| | | |
| --- | --- | --- |
| Click on the thumbnails to get a larger picture, then on | | on the top LHS of the screen to return to this page. |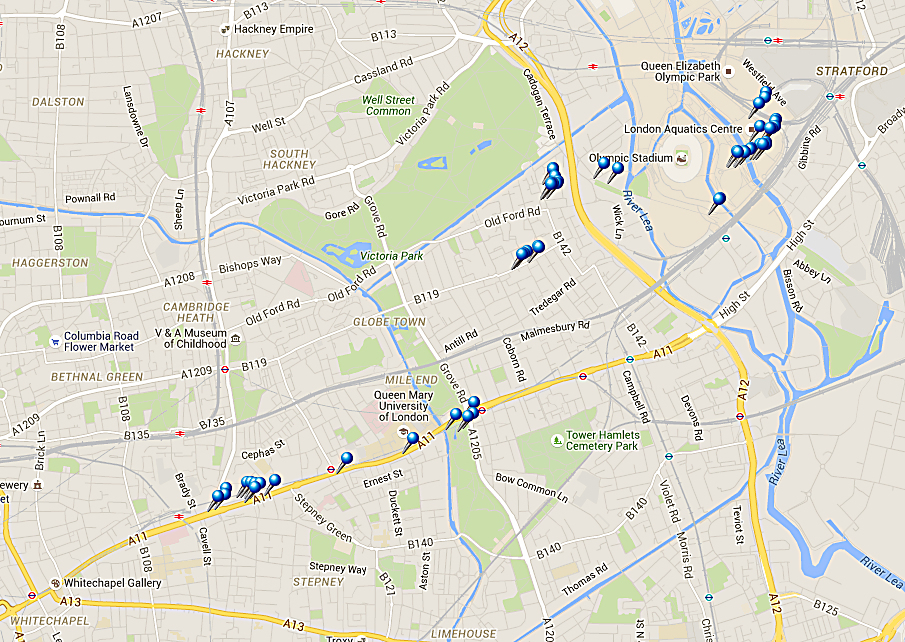 Trip on 25th November 2015
We had hoped to travel on the Javelin, but had to settle for the Overground. Walked through the exciting Westfield Shopping Centre to the Park

Westfield glamour

Ceiling lights

Exciting building

Ball of Baubels

Reflection Gang of 4

Balls

Shopper

Shrek's House

Steve passes by

Wonderful sky

Espalier trained street maple

Crane in a puddle

'Herd' of cranes

Bench and stool

Aquatic Centre

Whale textures!

Inside the Aquatic Centre

Any Old Iron or a sculpture

Aquatic Centre

Aquatic Centre

Aquatic Centre

Aquatic Centre

Arcelor Mittal Orbit

Crayons in the river

Yet more balls we had coffee nearby

Vertical generators

Global view

Tooth obsession

Graffiti

Michael and more teeth

Reflection in the roof

Buttercup

Donnybrook Quarter

This stone
was laid by
J. PASSMORE EDWARDS ESQ.
19th October 1900
Mark Dalton
Chairman of Vestry
Arthur K Valentine
Chairman of Committee
Francis Knibbs Clerk

Splendid clock

Outside a primary school

Champagne Dry Cleaners & the Crafty Cobblers

Moulds

We had an excellent, but expensive lunch at the Coburn. I had hot pot which was very tasty.

Bar

Canary Wharf

Places to visit

Light kept changing

The canal as seen

Which is better?

Tree shadow

Baby Ben

Art deco bas relief

Stepney Green Station

The Half Moon PH

Singular chimneys?

Sad end for a once great emporium

re Captain Cook

Tree tunnel

Catherine Booth

William Booth

Salvation Army mural

Trinity Alms Houses

Close-up of one of the boats

Alms House Church

The Blind Beggar PH

Another bauble

Mann Crossman & Paulin Ltd grand entrance

We walked on to the Whitechapel tube and tried to take a Hammersmith & City train, we did not see one in about 6 District Line trains, so we went by Overground instead reversing our earlier journey. The cats were keen to see us.