This site uses cookies, by continuing to use this site you are agreeing to their use. Learn More
the kings road
| | | |
| --- | --- | --- |
| Click on the thumbnails to get a larger picture, then on | | on the top LHS of the screen to return to this page. |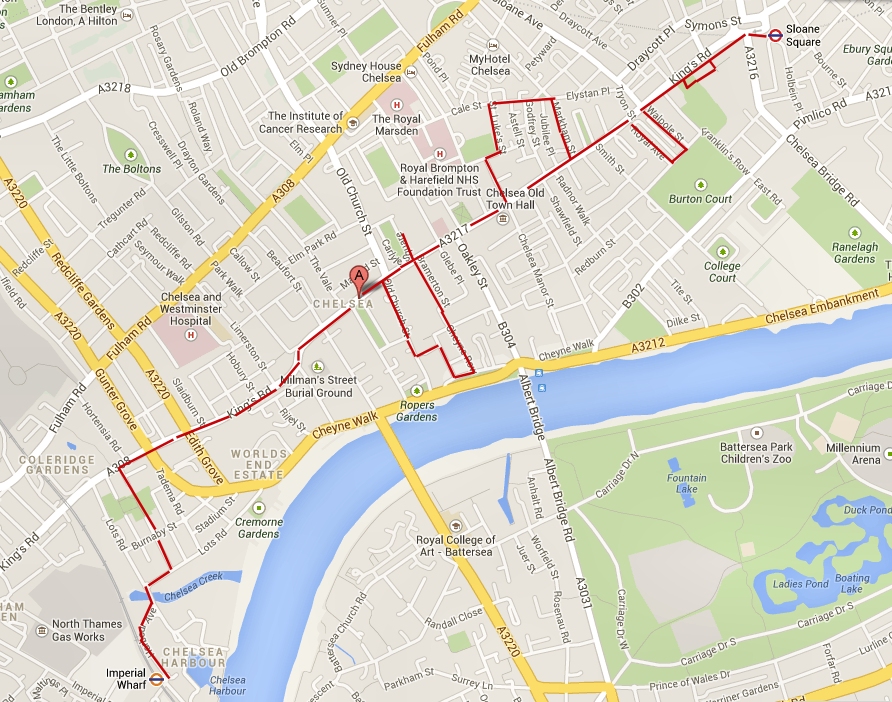 It was raining as we left the Overground station so we covered our cameras with plastic bags in between taking a few snaps. We stopped for a cup of coffee; set off again and were hailed upon, so we had an excellent early lunch. Thereafter the weather cheered up and we got some worthwhile pictures. I forgot the gps, hence the map above.
Design statement

Lights

Mud, mud, glorious mud

Petrol patterns

Chameleon

Chic garden

A bit cold to hang about!

Desirable residence

Chelsea supporter

The Chelsea Theatre

Interesting old pub being refurbished

Vine at the World's End Garden Centre

Wooden guard dog

Dairy office?

Wright's Dairy

Justice Walk

Judges' House

Justice Walk

Bas relief with storks/herons

Cheyne Row

Thomas Carlyle

Sable birds and unicorns?

Did they forget the door originally?

Terrace

Leigh Hunt lived here

Handsome terrace

Roof garden

Tasteful window boxes

Nursery School

Illegal decoration

Turner memorial plaque

Carved door

Wall plaque

Imposing portico

Setting up the Christmas tree

Pan or a satyr

Apologies for this

Reindeer and Festive penguins

St. Luke's Church

House of cats

Burnsall Street

Blue house and reflection

Dutch gable

The hole being dug under the house top left shown below. I would not like to live next door!

Shades of grey

Royal Avenue

Royal Hospital Chelsea

Photographer's picture

Way to the Saatchi Gallery

Sumptuous book

Lights

Not such a desirable residence as the ones we walked past earlier, however a first class address.