This site uses cookies, by continuing to use this site you are agreeing to their use. Learn More
chelsea physic garden
| | | |
| --- | --- | --- |
| Click on the thumbnails to get a larger picture, then on | | on the top LHS of the screen to return to this page. |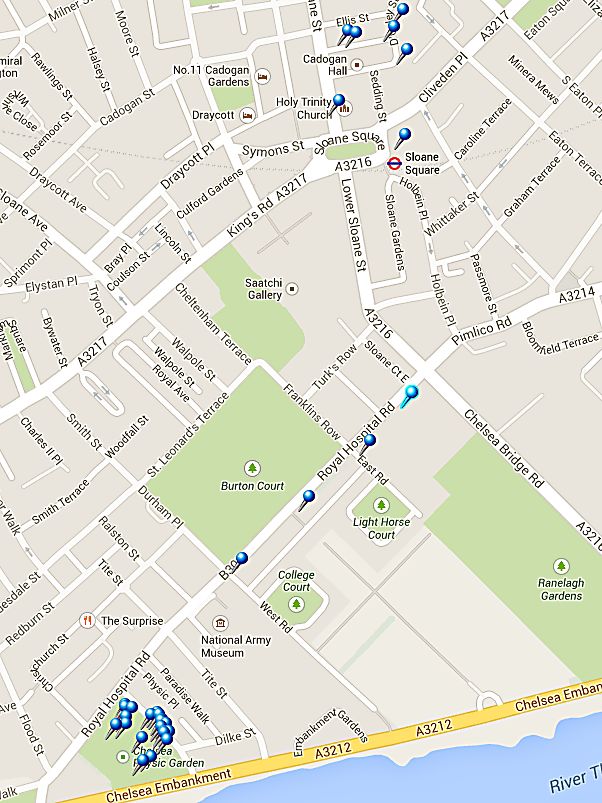 Gang of three went on the Old Flames visit organised by Angela Bellwood
Conflab

Cadogan Hall

Tromp d'oeil

Handsome door

What goes on the back

Square box

Cadogan Hall

Gate

Peter Jones display

Provision for all sizes of dog

Leap frog

Miles away!

Entrance to the Saatchi Gallery

Ants all over the walls

Steve and the ants

This graphic art really appealed to me

Leaving

Caretaker - serious hair

Sun setting on the sea

Children's art

Veiled subject

Not sure what this is about

We had a good lunch of club sandwiches at Caffé Concerto www.caffeconcerto.co.uk and having underestimated the time it would take to get to the Physic Garden we were late. Fortunately we had not missed very much or hopefully caused any trouble.

Hot tulips

Uvularia grandiflora

Chloranthus fortunei in the fern greenhouse

Podophyllum pleianthum

Wollemi Pine

Narcissi

Deutzia

Linnaeus' Caravan

Magnolia

Ceanothis 'Trewithen Blue'

Red Swiss chard

Vestia foetida

Paeonia delavayi?

Peony

Sun on a new leaf

Black tulip

Mixed hot tulips

Another graphic version

Sir Hans Sloane

Magpie was happy to show off for us

Tulips

Paeonia

Coronilla valentina ssp. variegata

Girl in the garden

Syringa persica

Handkerchief tree - Davidia involucrata

Iris japonica 'Martyn Rix'

Army Museum

He's plastic / plaster

So is he

Chelsea Hospital

It was an interesting visit and will be well worth another one later in the year.

We had a perfect journey home stepping onto the next train as it arrived in the station with no waits...