This site uses cookies, by continuing to use this site you are agreeing to their use. Learn More
capital ring
| | | |
| --- | --- | --- |
| Click on the thumbnails to get a larger picture, then on | | on the top LHS of the screen to return to this page. |
July 2012 SACC trip organised by Michael
Peter's Pictures - http://pjspictures.me.uk/1.PJP_London15.htm
Former railway track

Bricked-up tree

Tootin' spider

Pink cat

Peeking crow

How to use a monopod

Comfrey

Willow herb

What are they looking at?

Convolvulus

Pink eyes

Hello!

Michael's Pictures

| | |
| --- | --- |
| | What is this all about? |

Red admiral

Hazel nuts

Keep out!

Clissold Park

Fit

The Castle Climbing Centre used to be a Pumping Station or Waterworks

The Rapunzle version

Chilling

Through the stairs

Surely not a mobile phone?

Egyptian Geese

| | | |
| --- | --- | --- |
| | Butomus umbellatus - the flowering rush | |

Unexplained string

Koelreuteria paniculata

Stork

On the balcony

Surely an aubergine

Tardis in Abney Park Cemetery

Church in the Cemetery where Amy Winehouse made a video

Flowers of the bean tree - Catalpa bignoides

The Lion - Someone had given him a bunch of yellow plastic daisies; I though he would prefer a peony

Abney Cemetery

We travelled by bus to Finsbury Park then to St. Pancras where we had a meal then home.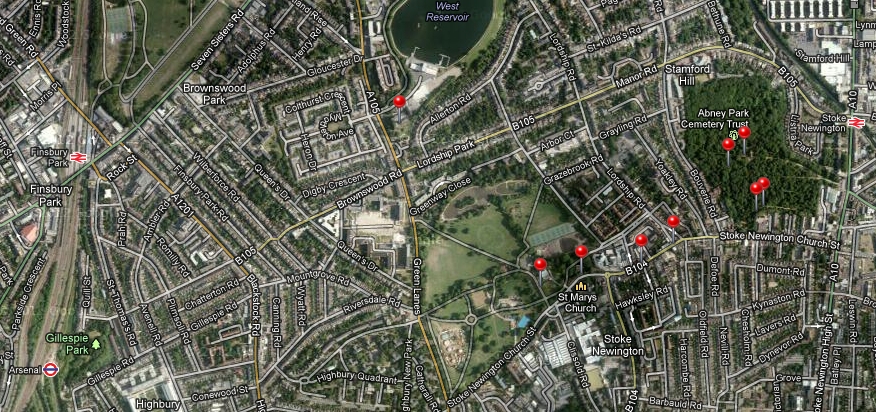 From Steve's GPS system tracked with Aperture - the latter part of our adventures.