This site uses cookies, by continuing to use this site you are agreeing to their use. Learn More
forest hill
| | | |
| --- | --- | --- |
| Click on the thumbnails to get a larger picture, then on | | on the top LHS of the screen to return to this page. |
Pictures taken with Nikon P7700 on its first trip out. The lens cap failed, but otherwise it behaved well.
Steve, Peter & Helen walked from Forest Hill to Dulwich Village and back on 27th January 2013. We saw the sun...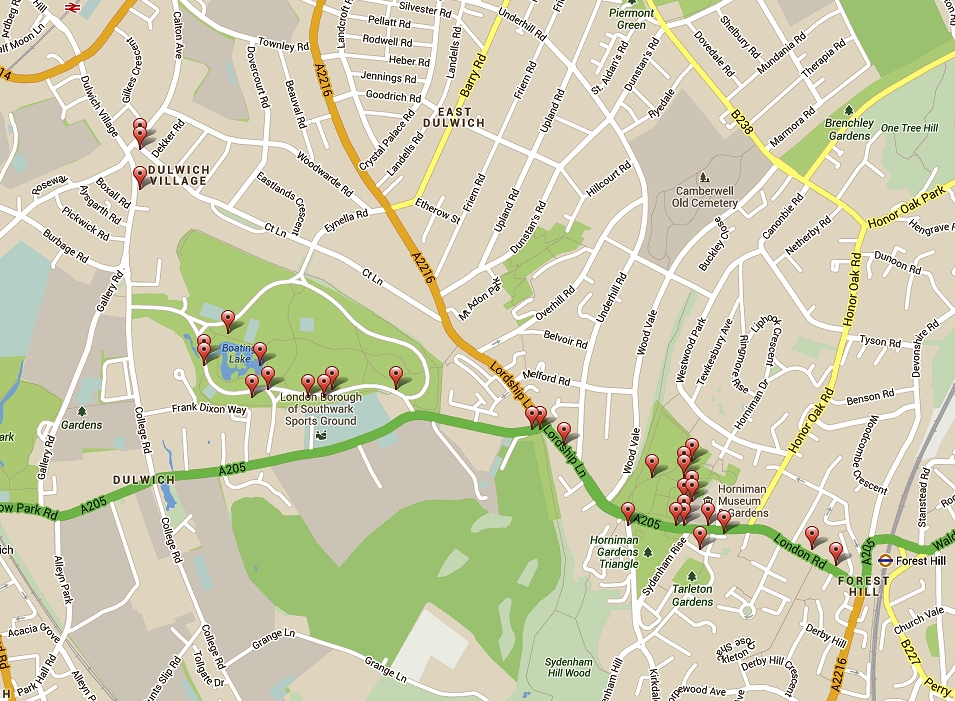 We had a long wait on the platform at Kentish Town due to a misjudgement.

Havelock Walk - Note the palms on the roofs and the balcony

We had an excellent cup of coffee at The Teapot Deli

Innovative decor at The Teapot

The Tower at the Horniman Museum

Another view

Contrasting architectural styles

Totem pole

Silver birch bark

Ornamental grasses

Peter went into the Horniman and took some pictures though it was rather too dark in there. http://www.pjspictures.me.uk/!.PJP_Dulwich.htm

The Conservatory was very appealing to all the photographers being very well-maintained and containing much interesting detail. http://www.horniman.ac.uk/

Art and nature

Long shadows

Bandstand

Mistletoe

Bright young branches

Sinister telephone box

Reflection

Door supporters,

chap on the left upset someone

Pity about the netting

Birches in Dulwich Park

Exercise point

A train of peddle carts flashes past

Venerable tortured silver birch

Peeling birch bark used as tinder in many countries

Weeping willow

Viburnum bodnantense

Chandelier in the Café

Steve's lunch

Au Ciel - Lunch spot with excellent loo and chocolates

Wonky light

Reflection

Tufted Duck - the shutter speed is too slow

Climbing frame

Art

The Horniman's entrance with mosaic

The golden ball was in an Estate Agent's: they make too much money in this part of London

We had an easier return journey to London Bridge via Southern Rail and then the Jubilee line to West Hampstead and First Capital Connect home.